Vascular surgeons in Nashville & Middle Tennessee
Vascular conditions we treat
Vascular procedures & treatments
Abdominal Aortic Aneurysm Surgery (AAA)
Amputation Lower Extremity
Aneurysm Repair
Angioplasty and Stenting
Aortobifemoral Surgery
Arteriogram
Awake Carotid Endarterectomy
Dialysis Access Surgery
Dialysis Catheter Insertion/Removal
Dialysis Shunt Insertion/Removal
Endovascular Abdominal Aortic Aneurysm Repair (EVAR)
Endovascular Intervention
Endovascular Thoracic Aortic Aneurysm Repair (TEVAR)
Endovenous Laser Ablation
Hybrid Aortic Aneurysm Repair
IVC filter placement/removal
Limb Salvage
Lower Extremity Amputation
May-Thurner Syndrome
Mesenteric Aneurysms and Occlusive Disease
Pelvic Congestion
Peripheral Artery Bypass for PAD
Phlebectomy of Varicose Veins
Port-A-Cath Insertion/Removal
Radiofrequency Ablation
Reflux Vein Closure
Revascularization Surgery
Sclerotherapy
Spider Vein Treatment
Thoracic Debranching for Arch Aneurysmal Disease
Thoracoabdominal Aneurysm Repair
Transcarotid Artery Revascularization (TCAR)
Treatment of Deep Venous Thrombosis
Upper Extremity Endovascular
Varicose Vein Treatment
Vascular Surgery
Venous Disease
Venous Stent
Wound Care
Vascular Surgery in Nashville
Your body is fed by a network of arteries and veins.
Arteries are large tubes that let blood travel away from your heart, with the exception of the pulmonary artery. This blood is filled with oxygen and nutrients, the fuel source for your entire body. Blood circulates throughout the body, delivering fuel and collecting its waste products, such as carbon dioxide.
Veins are smaller than arteries, and they carry blood back to your lungs. Here, the blood is refilled with oxygen. Then, it is shipped to your heart and finally pumped back out again. A single droplet of blood will make this complete tour of your body every minute.
In order to work properly, arteries and veins have to be elastic enough to withstand the pressure of blood pumping. But they also can't become saggy, or blood will accumulate in your extremities and not properly return to your lungs.
You will need surgery if veins or arteries have stretched, developed weak spots, clogged, or lost their elasticity. Surgery will eliminate or circumvent the diseased area.
In areas outside the intracranial and coronary arteries, specialized vein surgeons will surgically treat arterial, venous, and lymphatic system conditions. Some vascular conditions will occur only in arteries, while others occur only in veins. There are some disease processes that will affect both arteries and veins.
Vascular & Vein Treatments
Vascular and Vein treatments in Nashville (Middle Tennessee)
Your first appointment with a vascular surgeon will involve a vascular ultrasound. This test will help the trained vascular specialist assess the condition of your veins.
Ultrasounds also help your surgeon know the exact position of your veins to plan a more effective course of treatments. If serious intervention is necessary, we can talk you through vascular surgery options.
What is vascular surgery?
Vascular surgery is a specialty surgery practice used to manage heart and blood flow problems. These issues include vascular infections and vascular diseases, which affect the vascular system, veins, arteries, and lymphatic circulation. Some conditions that vascular surgeons treat include Peripheral Artery Disease, Chronic Venous Insufficiency, Deep Vein Thrombosis, atherosclerosis, and aneurysms.
Minimally invasive surgeries like catheter procedures and surgical reconstruction are utilized in vascular surgery medical therapies.
Only a trained surgeon, called a vascular surgeon, can treat vascular problems and diseases. People sometimes also call these specialists an artery surgeon or blood vessel surgeon, since they treat arterial and blood vessel problems.
Common vascular surgery techniques include:
→ Atherectomy – removal of atheroscolerosis, or surgical removal of plaque build up from blood vessels
→ Angioplasty and stenting – procedure to widen narrowed or blocked arteries or veins
→ Arteriovenous (AV) fistula – surgical connection between an artery and a vein
→ Arteriovenous (AV) graft – similar to AV fistula, but a surgeon will connect an artery to a vein with a synthetic tube
→ Thrombectomy – procedure to remove a blood clot from an artery or vein
→ Open abdominal surgery – for abdominal aortic aneurysm repair
→ Vascular bypass surgery – procedure to reroute blood flow to pass a blocked artery, commonly a vascular surgery performed on legs
→ Open carotid and femoral endarterectomy – surgical removal of plaque from arteries that run from the neck to the brain (carotid), or plaque removal from arteries running from groin to legs (femoral)
Vascular Procecdure Center (VPC) → Learn about our Vascular Procedure Center where we perform venous and vascular procedures for our patients across Tennessee. Using the latest minimally invasive surgical techniques, we offer patients hospital-level care in a convenient outpatient facility.
As an independent procedure center in the Nashville area, we have access to the most cutting-edge vascular procedure techniques and technologies. These techniques and technologies are not available anywhere else.
TCAR Procedure
Transcarotid Artery Disease Treatment
The Surgical Clinic's board certified vascular surgeons offer an advanced surgery for carotid artery disease called TCAR.
What is TCAR?
TCAR stands for transcarotid artery revascularization. This procedure is a minimally invasive option for carotid artery disease compared to traditional options like CEA (carotid endarterectomy). By taking a less invasive approach, we're able to help mitigate risks associated with traditional surgery. 
Abdominal Aortic Aneurysm
Aneurysms are asymptomatic conditions that can lead to severe and life-threatening problems. Thankfully, there is treatment available and our expert vascular surgeons know how to identify your risks and symptoms. To learn more about this condition and how it can be treated, watch the following video from Dr. Adam A. Richter, MD, FACS, RPVI.
Surgery for Abdominal Aortic Aneurysm
During surgery for abdominal aortic aneurysm (AAA), the weakened aortic wall is replaced with a hollow man made tube (graft).
Reaching the aneurysm
The aorta can be reached through open surgery . Or a less invasive endovascular procedure may be done. Your surgeon will choose the best approach for you.
Open surgery
An incision is made in your abdomen. Once inside, your surgeon gently moves aside your organs to reach the damaged section of the aorta.
Endovascular procedure
Near your groin, the surgeon makes 2 small cuts (incisions). Then he or she threads a thin, flexible tube (catheter) into the artery at the incision. The surgeon places a graft inside the catheter and guides it toward the damaged part of the aorta.
Placing the graft
The goal is to safely route blood past the aneurysm.
During open surgery
Here is what to expect:
The aneurysm is opened and cleaned of any blood clots.

The graft is sewn to the aorta.

The wall of the aorta is wrapped around the graft to protect it. The wall is then sewn up.

The incision site is closed with stitches or staples.
During open surgery, a graft replaces the weakened section of aortic wall. The wall is wrapped around the graft.
During an endovascular procedure
Here is what to expect:
Watching the catheter on a video monitor, the surgeon places a catheter in the best position. This position is confirmed by a dye study (angiogram). 

The surgeon guides the graft through the catheter and expands it so blood can flow through it.

The blood is now re-routed through the graft and does not fill the aneurysm anymore.

The graft is attached inside the artery. It's held in place with metal springs (stents), hooks, or pins.

The catheter is removed. The incision sites are closed with stitches or staples.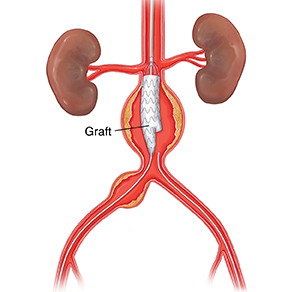 During an endovascular procedure, a graft is inserted inside the aortic wall. The graft is then secured to the aorta above and below the aneurysm.
Risks and possible complications
Here are potential problems to be aware of: 
Infection

Blood clots in legs

Bleeding

Kidney failure

Respiratory failure

Injury to the colon's blood supply

Erectile dysfunction

Spinal cord injury

Heart attack, stroke, or death
After AAA Surgery
After Open Abdominal Aortic Aneurysm Surgery
You have had surgery to repair an abdominal aortic aneurysm (AAA). This happens when the main blood vessel in your abdominal area weakens and expands like a balloon. Your healthcare provider placed a graft to replace the part of your aorta that was weak. Here's what you need to know following surgery.
Home care
Recommendations for taking care of yourself at home include the following:
Don't do strenuous activity for 4 to 6 weeks after your surgery.
Ask your healthcare provider how long it will be before you can return to work.
Gradually increase your activity. It may take some time for you to return to your normal activity level.
Don't drive for 2 weeks after surgery or while you are taking opioid pain medicine. Ask someone to take you to any appointments.
Check your incision every day for signs of infection. These include swelling, redness, drainage, and warmth.
Keep your incision clean. Wash it gently with soap and water when you shower.
Don't lift anything heavier than 5 pounds for 2 weeks after surgery.
Don't sit or stand for long periods without moving your legs and feet.
Keep your feet up when you sit in a chair.
Take your medicines exactly as directed.
When to call your healthcare provider
Call your healthcare provider right away if you have any of the following:
Redness, pain, swelling, or drainage from your incision
Fever of 100.4°F (38°C) or higher, or as directed by your healthcare provider
Sudden coldness, pain, or paleness in your leg
Loss of feeling in your legs
Severe or sudden pain in your stomach
Fail to pass gas
Bloody bowel movements
Prolonged constipation
Nausea or vomiting
Trouble breathing
Pain or heaviness in your chest or arms
Still have questions?
Reach out to us to set up an appointment. The Surgical Clinic has locations all throughout Tennessee, including areas such as Nashville, Lebanon, Columbia, and much more. We can address all of your vascular surgery needs, and answer any questions you might have regarding procedures.
TSC VASCULAR PROCEDURE CENTER
ADDITIONAL VASCULAR SERVICES
Vascular Procedure Centers (VPC)
Our state-of-the-art vascular procedure centers are accredited by the Intersocietal Accreditation Commission and each of the RVT's are registered through the American Registry of Diagnostic Medical Sonographers (ARDMS). These locations allow you to access advanced laboratory professionals all throughout Tennessee, without the congestion of a hospital setting. While appointments are required, it is often possible to make a 'same-day' appointment. Your test results will be sent to your vascular surgeon to help determine a recommended course of treatment.
VPC Columbia | Mt. Juliet | Nashville
Vascular Surgeons
The Surgical Clinic has board certified vascular surgeons who focus on treating all vascular and endovascular issues including pulmonary embolism, spider veins and varicose veins. Our network of board certified vascular surgeons and vein specialists are able to help patients with everything from common vein problems to serious conditions such as carotid artery disease. To find a provider near you, simply visit our "locations" tab, and choose the closest clinic in your area. We have over 40 surgeons throughout middle Tennessee, offering a variety of vascular surgery options.
Vascular Testing & Diagnostics
PHYSIOLOGIC (NON-IMAGING) TESTING
Physiologic arterial testing is the evaluation of the amount of blood flow to the arms or legs. If narrowing in an artery reduces the amount of blood flow to the arms or legs, we can detect this with physiologic testing. First we listen to the arterial flow and record waveforms of the flow pattern. We take blood pressures at different levels on the arms or legs, and we may have you walk on a treadmill for approximately five minutes to see if blood flow to the legs is reduced further with walking. All of this data helps your physician determine the overall significance of any narrowing and how much blood flow is getting to the legs or arms.
ANKLE/BRACHIAL INDEX
This is a simple physiologic test that involves taking a blood pressure from your arms and your ankles. We obtain a ratio of the ankle pressure to the arm pressure that tells us if the blood flow to your ankles is normal or abnormal. This test is the first step in evaluating the blood flow to your legs and is used to determine which further testing is performed. Arterial Doppler with Segmental Pressures Upper and Lower Extremities: This test involves taking blood pressures from different levels of your legs or arms. We also record waveforms of the blood flow to determine the quality of the blood flow. The blood pressures and waveforms help determine where any arterial narrowing is located.
ARTERIAL DOPPLER WITH TREADMILL
This test may assess your blood pressures in your arms and ankles after you have walked for 5 minutes on a Treadmill. This measures how exercise affects the blood flow to your legs. It is usually conducted after the Ankle/Brachial Index and Segmental Pressure testing is completed.
VASCULAR HEALTH SCREENING
The key to excellent vascular care is proper diagnosis and treatment options. The Surgical Clinic's ICAVL accredited vascular laboratory offers vascular screening services to assure that you receive proper diagnosis and treatment of your vascular condition. The state-of-the-art vascular ultrasound screening services are painless, fast and accurate. A vascular screening will help identify unnoticed vascular conditions; however, these screening do not take the place of a physical exam.
RAYNAUD'S TESTING
The key to excellent vascular care is proper diagnosis and treatment options. The Surgical Clinic's ICAVL accredited vascular laboratory offers vascular screening services to assure that you receive proper diagnosis and treatment of your vascular condition. The state-of-the-art vascular ultrasound screening services are painless, fast and accurate. A vascular screening will help identify unnoticed vascular conditions; however, these screening do not take the place of a physical exam.
Vascular Ultrasounds
Vascular ultrasound and physiologic vascular procedures are booked for The Surgical Clinic patients in the Vascular Laboratory in Tennessee. This convenient and comfortable settings allow Registered Vascular Technologists (RVTs) to evaluate the blood supply to and from various parts of the body. This information is obtained without any invasive procedures. After an appointment, you will be able to return to your regular activities. It is important to point out that your care will be delivered by a professional with an RVT certification. The RVT certification, not required in many labs, is the standard at The Surgical Clinics' labs and helps to assure you that your tests are being conducted by people specialized in these diagnostic procedures. We have a variety of locations across Tennessee, so whether you live in Nashville or Dickson TN, we've got a provider for you.
PAD Screening
Learn more about how and why you should get screened for peripheral arterial disease.
1. When is vascular surgery necessary?
Vascular surgery may be necessary to treat conditions such as blocked arteries (atherosclerosis), aneurysms, varicose veins, blood clots, and other vascular diseases.
2. What are the common vascular conditions treated by vascular surgeons?
Common conditions treated include peripheral artery disease (PAD), deep vein thrombosis (DVT), carotid artery disease, aortic aneurysms, and varicose veins.
3. What are the different types of vascular procedures?
Vascular procedures include angioplasty and stenting, bypass surgery, endarterectomy, thrombectomy, and aneurysm repair, among others.
4. How do I prepare for vascular surgery?
Preparation may involve fasting before surgery, discontinuing certain medications, and discussing any underlying medical conditions with your surgeon.
5. What should I expect during vascular surgery?
During surgery, you will typically be under anesthesia, and the surgeon will make incisions as needed to access and repair the affected blood vessels.
6. Is vascular surgery painful?
Pain management is an important aspect of vascular surgery. Your medical team will provide pain relief options to ensure your comfort during recovery.
7. How long does vascular surgery recovery take?
Recovery times vary depending on the procedure and individual factors. Some procedures may require a short recovery period, while others may take weeks or months.
8. What are the potential risks and complications of vascular surgery?
Risks may include infection, bleeding, blood clots, and reactions to anesthesia. Your surgeon will discuss these risks with you before the procedure.
9. Will I have scars after vascular surgery?
Most surgical procedures leave some degree of scarring. The size and visibility of the scar will depend on the type of surgery and your body's healing process.
10. Can vascular surgery prevent future vascular problems?
Vascular surgery can address existing issues and improve blood flow. Lifestyle changes and ongoing medical management may be necessary to prevent future problems.
Most people know the dangers of heart attack and...
read more