Todd H. Wilkens, MD, FACS
Board Certified Vascular Surgeon
TSC RUTHERFORD CLINIC
515 StoneCrest Parkway | Suite 230
Smyrna, TN 37167
TEL  615.223.9935   FAX  615.891.5049
Mon – Fri 7:30am – 4:30pm
Summit Clinic
660 South Mt. Juliet Rd | Suite 230
Mt. Juliet, TN 37122
TEL  615.223.9935   FAX  615.891.5046
Fri 12:30am – 4:30pm
Abdominal Aortic Aneurysm (AAA)
Aneurysm – Extremity
Aneurysm – False
Aortoiliac Occlusive Disease
Arterial Insufficiency
Atherosclerosis
Carotid Bruit
Carotid Stenosis
Claudication
Deep Vein Thrombosis (DVT)
End Stage Renal Disease
Gangrene
IVC Filter Consult
Lower Extremity Ulcers
Mesenteric Ischemia
Non-Healing Wound
Peripheral Vascular Disease (PVD)
Renal Artery Stenosis
Renal Insufficiency
Splenic Artery Aneurysm
Subclavian Steal Syndrome
Temporal Arteritis
Transcarotid Artery Revascularization (TCAR)
Transient Ischemic Attack (TIA)
Varicose Veins
Venous Insufficiency
Venous Stasis
Wound Care
Wound Healing
TCAR Procedure
Transcarotid Artery Disease Treatment
The Surgical Clinic's board certified vascular surgeons offer an advanced surgery for carotid artery disease called TCAR.
What is TCAR?
TCAR stands for transcarotid artery revascularization. This procedure is a minimally invasive option for carotid artery disease compared to traditional options like CEA (carotid endarterectomy). By taking a less invasive approach, we're able to help mitigate risks associated with traditional surgery. 
Abdominal Aortic Aneurysm
Vascular Surgery: Aortic Aneurysms
Aneurysms are asymptomatic conditions that can lead to severe and life-threatening problems. Thankfully, there is treatment available and our expert vascular surgeons know how to identify your risks and symptoms. To learn more about this condition and how it can be treated, watch the following video from Dr. Adam A. Richter, MD, FACS, RPVI.
Surgery for Abdominal Aortic Aneurysm
During surgery for abdominal aortic aneurysm (AAA), the weakened aortic wall is replaced with a hollow man made tube (graft).
Reaching the aneurysm
The aorta can be reached through open surgery . Or a less invasive endovascular procedure may be done. Your surgeon will choose the best approach for you.
Open surgery
An incision is made in your abdomen. Once inside, your surgeon gently moves aside your organs to reach the damaged section of the aorta.
Endovascular procedure
Near your groin, the surgeon makes 2 small cuts (incisions). Then he or she threads a thin, flexible tube (catheter) into the artery at the incision. The surgeon places a graft inside the catheter and guides it toward the damaged part of the aorta.
Placing the graft
The goal is to safely route blood past the aneurysm.
During open surgery
Here is what to expect:
The aneurysm is opened and cleaned of any blood clots.

The graft is sewn to the aorta.

The wall of the aorta is wrapped around the graft to protect it. The wall is then sewn up.

The incision site is closed with stitches or staples.
During open surgery, a graft replaces the weakened section of aortic wall. The wall is wrapped around the graft.
During an endovascular procedure
Here is what to expect:
Watching the catheter on a video monitor, the surgeon places a catheter in the best position. This position is confirmed by a dye study (angiogram). 

The surgeon guides the graft through the catheter and expands it so blood can flow through it.

The blood is now re-routed through the graft and does not fill the aneurysm anymore.

The graft is attached inside the artery. It's held in place with metal springs (stents), hooks, or pins.

The catheter is removed. The incision sites are closed with stitches or staples.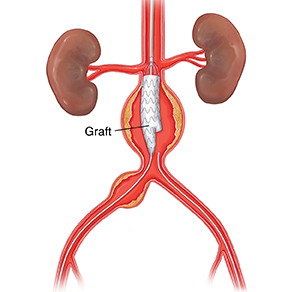 During an endovascular procedure, a graft is inserted inside the aortic wall. The graft is then secured to the aorta above and below the aneurysm.
Risks and possible complications
Here are potential problems to be aware of: 
Infection

Blood clots in legs

Bleeding

Kidney failure

Respiratory failure

Injury to the colon's blood supply

Erectile dysfunction

Spinal cord injury

Heart attack, stroke, or death
After AAA Surgery
After Open Abdominal Aortic Aneurysm Surgery
You have had surgery to repair an abdominal aortic aneurysm (AAA). This happens when the main blood vessel in your abdominal area weakens and expands like a balloon. Your healthcare provider placed a graft to replace the part of your aorta that was weak. Here's what you need to know following surgery.
Home care
Recommendations for taking care of yourself at home include the following:
Don't do strenuous activity for 4 to 6 weeks after your surgery.
Ask your healthcare provider how long it will be before you can return to work.
Gradually increase your activity. It may take some time for you to return to your normal activity level.
Don't drive for 2 weeks after surgery or while you are taking opioid pain medicine. Ask someone to take you to any appointments.
Check your incision every day for signs of infection. These include swelling, redness, drainage, and warmth.
Keep your incision clean. Wash it gently with soap and water when you shower.
Don't lift anything heavier than 5 pounds for 2 weeks after surgery.
Don't sit or stand for long periods without moving your legs and feet.
Keep your feet up when you sit in a chair.
Take your medicines exactly as directed.
When to call your healthcare provider
Call your healthcare provider right away if you have any of the following:
Redness, pain, swelling, or drainage from your incision
Fever of 100.4°F (38°C) or higher, or as directed by your healthcare provider
Sudden coldness, pain, or paleness in your leg
Loss of feeling in your legs
Severe or sudden pain in your stomach
Fail to pass gas
Bloody bowel movements
Prolonged constipation
Nausea or vomiting
Trouble breathing
Pain or heaviness in your chest or arms
Still have questions?
Reach out to us to set up an appointment. The Surgical Clinic has locations all throughout Tennessee, including areas such as Nashville, Lebanon, Columbia, and much more. We can address all of your vascular surgery needs, and answer any questions you might have regarding procedures.
MEET DR. WILKENS
Dr. Todd H Wilkens is a native of East Tennessee and has trained as a vascular surgeon in several different states. He went to college in Tennessee and then trained at the Loma Linda University School of Medicine. During his Army service, he completed more training at the Brook Army Medical Center in Texas. He later returned to Loma Linda, CA for more medical training.
Once he completed his education in California, Dr. Wilkens moved back home. He then served as a general and vascular surgeon for 15 years in East Tennessee before joining The Surgical Clinic.
His Focus: Vascular Surgery
He likes to focus on treating a broad spectrum of vascular surgery. He provides minimally invasive treatments for varicose veins and deep vein thrombosis or DVT. If you need help assessing the signs and symptoms of DVT, he would be happy to talk to you.
Carotid artery disease is another one of his specialities. He also provides treatment for peripheral vascular disease. 
If you are unfamiliar with this disease, it entails blockages in the arms, legs, and neck that severely restrict blood flow. It also has to do with narrowing of the veins, or stenosis, of these veins. Symptoms of peripheral vascular disease include pain or weakness in the affected area. It is also commonly referred to as poor circulation.
If poor circulation continues, it can lead to venous ulcer wounds on the legs. Dr. Wilkens offers care and treatment for these types of wounds.
In addition to vascular disease and vascular health, Dr. Wilkens provides services for patients who have problems with dialysis. Aortic disease and aneurysms are also part of his treatment expertise. 
Treatment Philosophy
Dr. Wilkins says that when he sees a patient, he sees them as a member of his own family. He believes that patients should feel like they're getting the attention they need and the answers they want. He also believes that patients deserve more care than just telling the what or how of their surgical treatment.
The patient's comfort is why Dr. Wilkins explains the procedures carefully every time. He wants patients to understand the exact nature of the procedure so they can be at ease.
Dr. Wilkens hopes that the people he treats know they're getting the right procedure. He believes in the value of his patient's time, and ensures they receive the best possible treatment.
The conditions he treats are often recurring or long-term. Because of this, Dr. Wilkens strives to build relationships with his patients in order to make their health care more enjoyable.
Joining The Surgical Clinic
He joined The Surgical Clinic in Smyrna, Tennessee by invitation a few years ago, and thoroughly enjoys his work. 
When he's not meeting with patients, Dr. Wilkens enjoys spending time with his wife and three children. Together, their family enjoys going outdoors and experiencing all the opportunities Nashville has to offer.
If you are a provider and would like to join The Surgical Clinic, visit our Jobs page for more information.
Vascular Surgery Blog in Smyrna
WHAT IS RAYNAUD DISEASE? AKA Raynaud phenomenon or Raynaud syndrome. There's no cure for Raynaud disease, but you can manage it to help prevent attacks. What triggers Raynaud disease?  → Cold → Stress → Caffeine → Smoking → Repetitive movements → Certain medicines,...