Abdominal Aortic Aneurysm (AAA)
The abdominal aorta → is the major artery that supplies blood to your organs, legs, and other vessels. An aneurysm happens when the artery becomes enlarged due to a weakening within the wall of the blood vessel. When this happens, it can continue to enlarge and then eventually rupture if left untreated.
Risk factors → 
include smoking, diabetes, family history, high cholesterol, high blood pressure, and stress. Not everyone shows symptoms, but some complain of back pain, abdominal or side pain, or pulsating (heartbeat) in the abdominal area.
If you have a strong family history of an AAA, please discuss with your Primary Care Physician if they think a screening is necessary.
Abdominal Aortic Aneurysm
Abdominal Aortic Aneurysm
Vascular Surgery: Aortic Aneurysms
Aneurysms are asymptomatic conditions that can lead to severe and life-threatening problems. Thankfully, there is treatment available and our expert vascular surgeons know how to identify your risks and symptoms. To learn more about this condition and how it can be treated, watch the following video from Dr. Adam A. Richter, MD, FACS, RPVI.
Surgery for Abdominal Aortic Aneurysm
During surgery for abdominal aortic aneurysm (AAA), the weakened aortic wall is replaced with a hollow man made tube (graft).
Reaching the aneurysm
The aorta can be reached through open surgery . Or a less invasive endovascular procedure may be done. Your surgeon will choose the best approach for you.
Open surgery
An incision is made in your abdomen. Once inside, your surgeon gently moves aside your organs to reach the damaged section of the aorta.
Endovascular procedure
Near your groin, the surgeon makes 2 small cuts (incisions). Then he or she threads a thin, flexible tube (catheter) into the artery at the incision. The surgeon places a graft inside the catheter and guides it toward the damaged part of the aorta.
Placing the graft
The goal is to safely route blood past the aneurysm.
During open surgery
Here is what to expect:
The aneurysm is opened and cleaned of any blood clots.
The graft is sewn to the aorta.
The wall of the aorta is wrapped around the graft to protect it. The wall is then sewn up.
The incision site is closed with stitches or staples.
During open surgery, a graft replaces the weakened section of aortic wall. The wall is wrapped around the graft.
During an endovascular procedure
Here is what to expect:
Watching the catheter on a video monitor, the surgeon places a catheter in the best position. This position is confirmed by a dye study (angiogram).
The surgeon guides the graft through the catheter and expands it so blood can flow through it.
The blood is now re-routed through the graft and does not fill the aneurysm anymore.
The graft is attached inside the artery. It's held in place with metal springs (stents), hooks, or pins.
The catheter is removed. The incision sites are closed with stitches or staples.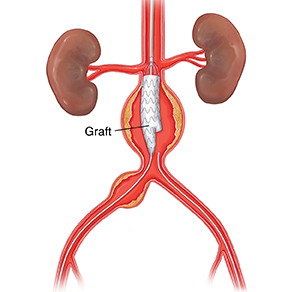 During an endovascular procedure, a graft is inserted inside the aortic wall. The graft is then secured to the aorta above and below the aneurysm.
Risks and possible complications
Here are potential problems to be aware of:
Infection
Blood clots in legs
Bleeding
Kidney failure
Respiratory failure
Injury to the colon's blood supply
Erectile dysfunction
Spinal cord injury
Heart attack, stroke, or death
After AAA Surgery
After Open Abdominal Aortic Aneurysm Surgery
You have had surgery to repair an abdominal aortic aneurysm (AAA). This happens when the main blood vessel in your abdominal area weakens and expands like a balloon. Your healthcare provider placed a graft to replace the part of your aorta that was weak. Here's what you need to know following surgery.
Home care
Recommendations for taking care of yourself at home include the following:
Don't do strenuous activity for 4 to 6 weeks after your surgery.
Ask your healthcare provider how long it will be before you can return to work.
Gradually increase your activity. It may take some time for you to return to your normal activity level.
Don't drive for 2 weeks after surgery or while you are taking opioid pain medicine. Ask someone to take you to any appointments.
Check your incision every day for signs of infection. These include swelling, redness, drainage, and warmth.
Keep your incision clean. Wash it gently with soap and water when you shower.
Don't lift anything heavier than 5 pounds for 2 weeks after surgery.
Don't sit or stand for long periods without moving your legs and feet.
Keep your feet up when you sit in a chair.
Take your medicines exactly as directed.
When to call your healthcare provider
Call your healthcare provider right away if you have any of the following:
Redness, pain, swelling, or drainage from your incision
Fever of 100.4°F (38°C) or higher, or as directed by your healthcare provider
Sudden coldness, pain, or paleness in your leg
Loss of feeling in your legs
Severe or sudden pain in your stomach
Fail to pass gas
Bloody bowel movements
Prolonged constipation
Nausea or vomiting
Trouble breathing
Pain or heaviness in your chest or arms
Still have questions?
Reach out to us to set up an appointment. The Surgical Clinic has locations all throughout Tennessee, including areas such as Nashville, Lebanon, Columbia, and much more. We can address all of your vascular surgery needs, and answer any questions you might have regarding procedures.
Understanding abdominal aortic aneurysm (AAA)
Vascular surgeon, Dr. Adam Richter, MD, RPVI, explains what an abdominal aortic aneurysm is and how it can cause specific problems. For instance, if the AAA gets bigger, like a balloon, they can burst (AKA rupture). This can cause excessive bleeding that becomes a medical emergency.
Find a Vascular Surgeon
If you're looking for an abdominal aortic aneurysm doctor near you (in Nashville or Middle Tennessee). Schedule a consultation at The Surgical Clinic to meet with one of our board-certified vascular surgeons who provide Abdominal Aortic Aneurysm (AAA)  surgery.